Google's natural reaction is to have its own voice-driven home system, in Home. But that poses a difficulty, illustrated by the problems it claims to solve. At the device's launch, one presenter from the company explained how it could speak the answer to questions such as "how do you get wine stains out of a rug?" Most people would pose that question on a PC or mobile, and the results page would offer a series of paid-for ads. On Home, you just get the answer – without ads.
What analysts wonder is: how can Home bridge that revenue gap? So far, Google hasn't explained. Even if it can fend off the Echo, it may not be able to defend its core business.
By contrast, the Echo's benefit to Amazon is much clearer: it can make online shopping (at Amazon) a breeze, play music from Amazon's paid-for subscription service, and generally act as a passive block on your using rival shopping sites – rather as Google cemented its dominance by being the default search engine on multiple browsers in the mid-2000s.
Richard Windsor of Edison Investment Research suggests that time is running out for Google: "It has to act quickly, as Amazon is on the brink of becoming the industry standard for controlling smart home devices.
"At CES, everyone was integrating with Echo, with Google Home and AppleHomeKit barely present."
Indeed, where are Apple and Microsoft, which also have their own voice-driven assistants in the form of Siri and Cortana? Although both can be used in the home – Siri on the iPhone or iPad, and to play content on the Apple TV set-top box, and Cortana on the Xbox games console – neither seems to be intent on the "home assistant" market.
Phil Schiller, Apple's vice-president of marketing, seemed to suggest recently that Apple wouldn't follow Amazon and Google into offering a voice-only device: "Having my iPhone with me as the thing I speak to is better than something stuck in my kitchen or on a wall somewhere." He also emphasised the importance of a visual display: "We still like to take pictures and we need to look at them, and a disembodied voice is not going to show me what the picture is."
So, will we all be burbling away to thin air in a few years, asking how long our commute will take while our smartphones sit unused in the kitchen? Perhaps – though Ken Sena, a senior analyst at investment bank Evercore ISI, suggests that home-based voice assistants will never be used as widely as smartphones. According to Sena, they are not such a must-have.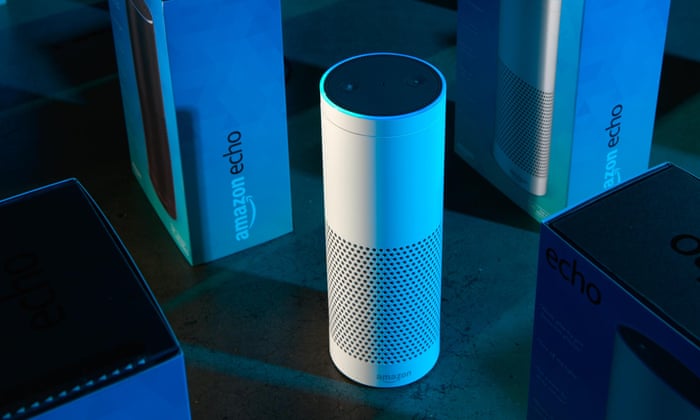 Yet, they were a hot Christmas present – and voice interaction is still in its early days, perhaps comparable to the smartphone market in 2005, when BlackBerry, Palm and Microsoft dominated. Or, it could be like the smartphone market now, effectively dominated by Google and Apple. But which?